How to Plan a Wedding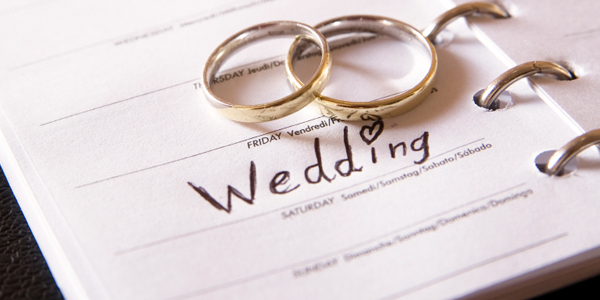 If you want to know "How to Plan a Wedding", odds are you already understand what a daunting task it is.  You're about to plan the most important day of your life and there are 1,000+ decisions that need to be made.  You're probably asking yourself, "can I plan a wedding that's affordable" or "can I stay within my budget?"   The exact same thoughts ran through my head when I was planning my own wedding – which is why I created this website!
You can't learn how to plan a wedding overnight but I'm sure that if you spend just a little time reading through the posts that I and other wedding professionals have written out to help you, you'll have enough information to be able to make better decisions, ask more questions, and even save some money!
Below you will find some of my favorite wedding articles  on this wedding blog site to date, on the subject of "How to Plan a Wedding".  I hope you find them useful!
You might be surprised to find out that when planning your wedding if you book short term for the hall, you have more leverage to get a better price. read more…
In your wedding planning budget, how much did you reserve for the rehearsal dinner? It may be traditional – but how many other ways could you spend the money? read more…
Your invitation is usually the first glimpse of your wedding day, that your guests will see.  So, it is important that they are nice but there's no reason to spend a fortune on them. read more…
There are many ways to save money when it comes to your wedding flowers, but one of the easiest ways is by choosing flowers that are in season.  There can be a huge price difference when they are out of season. read more…
Music sets the stage. It elicits memories and it makes memories.  Can you imagine a memorable moment of your life or even a favorite movie without it? read more…
Get cheap wedding tips from Nicole when she attended her cousin's wedding! read more…
The size of your cake, meaning how many tiers you have and/or how many inches the tiers are, is determined by how many servings you need.  The catch is, that most bakeries charge per serving. read more…
Believe it or not, your local dollar store may become your best friend during your wedding planning.  Many dollar stores carry a variety of glassware, sea shells and/or colored glass gems.  There is no need for a huge, expensive centerpiece. read more…
Wedding invitations can take up a large chunk of your wedding budget, however, it is not necessary. You can find a selection of beautiful quality cheap wedding invitations online. read more…
Saving money when planning your wedding can seem like a tough task but there are a few good and simple ways to save money without sacrificing quality. read more…
Whether you are planning a wedding on a budget, or just looking for a deal, 'negotiate' can be a very helpful word. In this economy, many vendors are willing to negotiate to get your business. read more…
Instead of spending hundreds of dollars on save-the-date postcards or magnets, envelopes and postage, use your wedding website as your save-the-date. read more…
A night out on the town with your girlfriends is always a great time but adding some accessories to your night out can make it extra fun, as well as add an extra little something to laugh and talk about. read more…
As you may have realized by now, flowers can eat up a decent portion of your wedding budget.  Although flowers are beautiful and can create a wow factor, candles can also have the same effect. read more…
Arthur Frommer's "Budget Travel" magazine is the perfect read for someone trying to plan a dream honeymoon without breaking the bank. read more…
We are very happy that our friends at La Phemme Phoodie allowed us to be a guest blogger, and share one of our favorite simple and inexpensive punch recipes. read more…
Trying to find a deal on wedding photography is almost impossible, as most photographers have packages that are set in stone.  There is a great way around this, and that is by finding a photography student at one of your local technical schools or colleges. read more…
Using an iPod (or laptop) versus hiring a DJ or music professional for your wedding reception, has been a popular topic lately.  Of course most brides and grooms would love the high-end DJ or band, but I think the decision on what to do is dictated by the couple's budget. read more…
If you are looking for a cute wedding idea or a way to top off your perfect wedding invitations, you have to check out the custom postage at perfectpostage.com. read more…
For some unfortunate people, those costs can get even worse: scammers, crooks, idiots, and even kidnappers can ruin your wedding budget in minutes.  Here are some tips to avoid wedding financial disasters. read more…
Planning a wedding on a budget?  Here are some good ways (and really bad ways) to save money on your wedding cake. read more…
Here is a wedding venue idea inspired by a wedding that I recently attended. Brides looking for an all-in-one venue may just fall in love with this idea! read more…
Save money on your wedding budget by buying the liquor for your wedding reception. Here is a wedding liquor calculator to help you in deciding how much to buy. read more…
With all the different kinds of wedding food and favors out there, this blog shares fun and inexpensive ways to save money. read more…
Check out these wedding planning tips, on how you can make a dramatic difference in your wedding decor, with linens that you can get almost for free! read more…
Here are a few ways eco-chic green brides-to-be can stay true to their wedding budgets without leaving behind a carbon footprint. read more…
Read about the different types of wedding photography packages, and learn how you can get great wedding photos without paying a fortune. read more…
Having your centerpiece double as your wedding favors can save you money & be incorporated into any wedding theme – here are a few options for inspiration! read more…
Choosing a wedding site that fits your budget and style, is a hard choice but with so many different options out there, you have to keep an open mind. read more…
When planning a wedding, it is very easy for your expenses to get out of control.  Here are a few simple ways to save on your wedding transportation. read more…
Here are some fun and unique winter wedding ideas that won't break the bank.  read more…
Here are some affordable, equally elegant alternatives to the traditional wedding floral bouquet (some you can even do yourself!) read more…
If you are planning a wedding on a budget, you can save money and the environment with these plantable eco-friendly wedding invitations. read more…
Videography is one of the last things a bride considers and by the time she gets to it, her budget is gone and then what?  Read these tips on how to find an affordable wedding videographer that you won't regret! read more…
Though a planner may seem like an additional wedding expense, there are several benefits in hiring a pro to plan your special day which may save you money in the long run.  read more…
Integrating your bachelor and bachelorette parties can save you a ton of money and can still be as wild as you'd like.  Here are some fun and budget conscious ideas. read more…
If you are internet savvy and have the time to do your own research, booking your honeymoon travel online may save you hundreds of dollars.  Here are some budget friendly planning tips. read more…
Although tipping is not expected by vendors, it is certainly appreciated. So, then who do you tip and how much? Here is (what I think) a fair guide to ensure that you are taking care of your vendors but not burning your budget. read more…
The new wedding registry, Wishpot, takes the guessing out of giving and ensures that the bride and groom are getting exactly what they want and need. read more…
Have you heard of the term, "Reduce, Reuse, Recycle"?  Well, you can put that term into play, when planning your wedding.  Here are a few tips from a bride-to-be and professional event planner, on how to do just that to help save your wedding budget. read more…
Here are some wedding planning tips, for those trying to blend cultural wedding traditions with ease, fun and within your wedding budget. read more…
Are you looking for a gorgeous, custom wedding cake but don't want to spend a fortune?  Well, here is a wedding planning tip that will help you get the cake of your dreams, for only a slice of the price! read more…
If you are planning a destination wedding, read these affordable wedding planning tips before considering the Nassau/Paradise Island areas of the Bahamas. read more…
Choosing your wedding venue is one of the biggest decisions to make while wedding planning.  After all, it is where couples usually fork over the most cash.  Here are a few money-saving wedding tips and ideas to consider when deciding on a venue for your special day! read more…
When honeymoon planning, one major expense is usually the airfare.  In this blog, I've listed some planning tips that will help you book smart and save money! read more…
This blog will provide you with wedding tips for choosing a venue, planning your reception, and saving money along the way. read more…
Here are some wedding planning tips for saving money on food and drinks at your wedding reception. read more…
Here you will find wedding planning tips on how to save money on your wedding music and photography. read more…
Some of the most inexpensive and practical wedding venues are likely found right in your neighborhood. Though they may not be the most elaborate locations, you can save so much money and get creative with your decor by having your wedding at these locations. read more…
If you are having a fall wedding here are some wedding flowers that will help you stay in season and within your budget. read more…
Help save your wedding budget by serving just beer, wine and a signature cocktail drink at your reception. Start planning with these yummy drink recipe ideas. read more…
To save time and money on your wedding budget, be prepared and create a wedding photos list to give your photographer. Here is a sample list to get you started. read more…
Of course you want to look radiant on your wedding day but who wants to shell out a bunch of money for a look that will only last a day?  Here are a few wedding tips on how to get your perfect bridal look without breaking your wedding budget. read more…
Here is a wedding planning tip that I haven't come across often but can help you save money on majority of your wedding services. read more…
Is your wedding floral budget giving you a headache?  If so, then follow these few simple wedding planning tips, provided by a professional florist, to help reduce your headaches and the cost of your beautiful flowers. read more…
Prepare yourself and your wedding budget with this list, which covers just a few of the most common hidden fees in the wedding industry. read more…
If you are planning a wedding on a budget and would like to serve liquor at your wedding reception, you can do so while saving by following this simple tip. read more…
Here you will find tips on how to still plan a wedding and save while dealing with a "Groomzilla". read more…
One of the hottest trends for today's wedding couple is "branding" the wedding with a theme, logo or of course, the traditional monogram.  The great thing about today's monograms is that they can be classic, funky, fresh or old-fashioned…the possibilities are endless. read more…
Instead of letting the stress of wedding planning and your budget get in the way of this exciting time, consider alternative resources such as planning an outdoor wedding. read more…
Here are a few questions to ask to ensure that you pick the wedding photographer that is right for you and that you get the most for your money. read more…
It makes sense that the simplest way to save money on your wedding is to cut down your guest list but how do you decide who makes the cut? read more…
Of course you want to find that perfect wedding dress, but that dress can look not so perfect pretty quickly after seeing the price.  If you want to avoid the marked up prices at your  local bridal shop, and you don't feel comfortable buying your wedding dress online, there is still another option! read more…
While I never recommend going with the "cheapest" photographer, there are ways to extend your dollar when choosing a professional photographer with the experience to deliver outstanding images of one of the most important days in your life together. read more…
Wendy from LaPhemmePhoodie.com wanted to share some affordable wedding planning tips, that she recently spoke to some family and friends about. read more…
As a bride-to-be, I thought it would be fun to share some information on my process of planning a wedding on a budget. read more…
Here are a few ways eco-chic green brides-to-be can stay true to their wedding budgets without leaving behind a carbon footprint. read more…
Previously, I wrote about an eco-friendly, money saving wedding tip.  Read this tip and find out how you can cut cost on your dress, while also helping others! read more…
If you are currently planning your wedding, then you are all too aware of how much money flows out during the process.  What you may not know is, there is a way to make some money back after your wedding. read more…
A fashion designer and finalist from Bravo's hit TV show, Project Runway, Carol Hannah shares her gowns and some tips on weddings! read more…
JoPhoto shares a few important tips on how to make sure that you get the biggest bang for your buck on your wedding photography. read more…
When Chelsey married Talon in 2008, she wanted her wedding to be beautiful without breaking the bank. She successfully did just that and she is now sharing her great, economical wedding tips with all of you brides-to-be's.  Read Chelsey's guest blog filled with some useful, thrifty tips on how to make your own wedding as classy and inexpensive as hers. read more…
If you want to whiten your teeth for your wedding, here's a tip: don't spend hundreds at the dentist. Use this info to do so in your own home at half price. read more…
Looking for ways to save money while wedding planning? Here are some tips to save a little extra with do-it-yourself (DIY) wedding invitations and RSVP cards. read more…
Here are some wedding planning tips that will help you find the perfect wedding caterer for your budget. read more…
Opening your wedding gifts can be fun but also stressful, when you think about the thank you notes, but no worries.  Here are a few tips on proper etiquette and how to save money when sending out those thank-yous! read more…
Professional wedding planner, Sophia Joseph, shares her top ten wedding planning tips to having an economical yet dream wedding. read more…
Instead of letting the stress of wedding planning and your budget get in the way of this exciting time, consider alternative resources such as planning an outdoor wedding. Here are some reasons why an outdoor wedding can help with your budget, and a few things to look out for when selection your ceremony and/or reception location. read more…
Sometimes, you need to hear it from the pros. Cynthia Bee is our guest blogger for today and she knows a thing or two when it comes to photography. The founder of PhotogsUnited.com, Cynthia works directly with photographers and she is offering some wonderful and helpful tips on how to find that perfect wedding photographer, and how to ensure that you get the most for your money! read more…
Here are a few beautiful and fun honeymoon locations, where you and your spouse can go to de-stress and start your new life together without going in to debt. read more…
It makes sense that the simplest way to save money on your wedding is to cut down your guest list, but that's usually easier said than done.  So, who makes the cut?  Here are some questions to consider. read more…
Although the summer is winding down, we are still experiencing extremely high temperatures around the country.  For those brides, who want to save some money by doing their own wedding makeup, here are a few tips to keep in mind.  You can still look beautiful while battling the heat and humidity! read more…
Here are some planning tips that will help you find the best wedding videographer for you, while getting the most for your money.  read more…
Wedding transportation is usually a necessity but at the same time, unfortunately, can also be somewhat expensive.  Here are a few planning tips to follow, to help you get to where you need to be without breaking your budget! read more…
Winter is such a fun time of year to get married.  You can get creative with your decor, centerpieces and especially with your favors.  To help you get started, here are some of our favorite winter wedding favors, that can be found at an affordable price. read more…
If you plan on having a sit down dinner at your wedding reception, here are some menu selections to avoid, as well as some yummy yet affordable selections. read more…
Every bride wants to look their best on their special day.  Unfortunately, wedding hair and makeup services can get extremely pricey.  With that said, there are a few tips that you can follow to help save your budget, while still looking beautiful! read more…
Guest blogger, Olivia Nicholas, shares tips on how to have truly amazing wedding invitations on a tight budget. read more…
Instead of blowing your wedding budget on popular colorful blooms, for your bouquets and arrangements, save your money by going green! read more…
Whether you are having a hour cocktail reception before dinner, or hosting a cocktail reception for a couple of hours in lieu of a full fledge reception, there are ways to plan out your menu so that your bill is skimpy but not your selections. read more…
Here you will find the trendiest wedding colors for 2012, along with some affordable wedding invitations, favors and accessories to get you started in a scheme. read more…
Diana from BloomsByTheBox.com, an online wholesale flower retailer, gives step-by-step instructions on creating gorgeous but inexpensive DIY table centerpieces. Read further to find a video showing how to create your own, wedding hand-tied bouquet! read more…
Having the right music at your wedding ceremony can really make your special day that much more amazing and magical.  However, when it comes to hiring musicians to play at your ceremony (on top of musicians or a DJ for your reception) it can start to eat away at your budget.  Here are some money saving tips, to keep in mind when it comes to selecting your wedding ceremony music. read more…
If you are having a winter wedding, there are so many beautiful flower options.  Do you go with romantic winter white?  Festive reds?  Or winter wonderland blues?  Regardless of what color scheme you decide on, we've listed a couple of ways to keep cost down, along with some of our favorite winter wedding flowers. read more…
When it comes to your wedding favors, or even favors for a bridal shower, there are ways to do something cute and memorable without breaking the budget.  Here you will find some tips and ideas on how to do just that! read more…
An easy way to save some money on your floral budget is by forgoing the dramatic wedding centerpieces.  Here are some creative and affordable alternatives. read more…
The wedding band has long been a symbol of eternity, and the joining of two people in the institution of marriage.  With that said, there's no reason to find yourself in debt after trying to carry on this tradition. There are many beautiful and affordable wedding bands out there to choose from.  Here are a few tips to follow, to help you save, while out there shopping for your wedding bands. read more…
So, we've all heard of the Old English rhyme, "Something Old, Something New, Something Borrowed, Something Blue".  Today many bride's are still incorporating these items into their wedding day, and why not?  It's not only a fun way to carry on tradition but it will also save you money from having to purchase these items on your own.  To get you started, here are some ideas. read more…
Today's guest blogger is Joe Testa from Got Videographer.  Being in the wedding industry for 20+ years, he has seen it all.  With that said, he is sharing some great wedding planning tips on how to save money, and even make money, on items such as your centerpieces! read more…
Today's guest blogger, Ashyia Hill, is sharing tips on how to save and find the right entertainment for your special wedding day. read more…
While wedding planning, I always tell brides to keep their eyes open, as you never know when and where you may find a great deal on that perfect wedding item or amenity.  Today I'm sharing a catalog that I found in my mail that will help you plan a truly unique wedding for less! read more…
Having a spring wedding in many parts of the United States can be perfect for so many reasons, but especially for your flowers.  Here is a list of my favorite spring wedding flowers, that are colorful and inexpensive! read more…
To help save on budget, many showers are being held at home with the host(s) cooking the food.  If you fall into that category, we are here to help you out.  We've come up with four delicious and effortless recipes, which include an easy appetizer, two foolproof entrees and a dessert that will leave your guests salivating! read more…
Bachelorette parties are as essential as that "something blue." A bride needs a much-needed night of fun, after dealing with the stresses of wedding planning. We love going out and partying as much as the next bride and her gang of bridesmaids, but the cost of that night can be too extravagant. One alternative we endorse is having an at-home bachelorette party. They're cheaper, more intimate, and you don't have to walk around in painful heels all night. Here are three of our favorite ideas. read more…
When selecting your wedding invitation there are so many different sizes and layout options to consider.  Do you go for the traditional rectangle, trendy tea-length, folded, or the increasingly popular square invitation?  Well, this selection may determine how much money you spend, so read this helpful tip first to help you save. read more…
Ah, spring is almost in the air!  What a wonderful season to plan a wedding, for so many reasons.  Today we are going to focus on spring wedding favors.  We are sharing a few of our favorite favor ideas that are in-season and inexpensive. read more…
We're sure that you've heard this word tossed around in the past few years and "minimoons" have become quite the wedding trend for many couples that don't have the time or money to take a long and extravagant honeymoon. Personally, we adore the idea of spending a week(end) away while having the ease of running back (okay, driving back) home, if necessary. What else do we love? Read on for more! read more…
One of our wedding pet peeves is that sometimes, a handsome groom or groomsman will be wearing an obviously ill-fitted tuxedo or suit. Guys, look sleek and sharp in your wedding tuxedo or suit, while making sure that you get the most for your money, by reading these tips on men's attire sizing. read more…
One of the first things to do after rivaling in your engagement is to start looking for a wedding venue.  This can be an overwhelming task, especially when you start hearing the cost, but these tips will help save some of your budget! read more…
When planning out your wedding food and drinks, you will quickly notice how expensive the alcoholic beverages can be.  There are several ways to get around this such as serving just beer and wine, and possibly a signature drink.  Here are our favorite yummy, simple and affordable spring signature wedding drinks! read more…
If planning a wedding on a budget, some couples may opt to have a friend or family member handle the photography.  If so, here are some tips for them to follow. read more…
The most popular form of wedding transportation is a limousine.  This can be a good choice, however, also overwhelming as you are signing the contract.  To ensure that you are getting the most for your money, ask these questions first. read more…
When purchasing your wedding ring (band or engagement ring), you certainly want the best and for it to stand the test of time and weather everyday life. We believe that you should have all of these characteristics without breaking the bank. Here, find out what metals are the most affordable and durable for your wedding jewelry. read more…
It's quite tempting to pick out the flashiest shoe with the highest stiletto heel, because it's simply gorgeous. However, do your precious feet a favor and educate yourself on the best affordable and comfortable wedding shoes. Follow these tips, and you won't need the bandages later. read more…
If you plan to stay in the U.S. or close to home, to save on your honeymoon, here are some of our favorite destinations on the east coast. read more…
Every couple wants their wedding cake to be scrumptious and memorable, but you also don't want your cake budget to take a hit. So, here we have a list of the best inexpensive cake icing and fillings. Yummy! read more…
If planning a bridal shower, have some fun and get your guests involved by playing one of these free bridal shower games. read more…
It seems that in today's world everything has to be "over the top" when celebrating a wedding.  Usually "over the top" is synonymous with EXPENSIVE.  With a bit of planning, though, and a little time, you can have "over the top" with "under budget".  Take, for instance, your wedding cake.  You can spend several hundred dollars on your wedding cake if you commission someone to bake a cake for you.  Before you shell out a large amount of money, consider a few of these money saving tips and ideas. read more…
Every couple wants their guests to walk away with a memorable item from their wedding.  You can do so, while saving money, by doubling your wedding centerpieces as your favors.  Here are a few fun, cute and affordable ideas! read more…
The warm weather is finally arriving which means summer is around the corner.  This is a fun time of year to get married, as you can get creative with so many aspects of your wedding planning, especially your favors.  Here are some of our favorite summer wedding favors that are unique and affordable! read more…
Antigua is a gorgeous setting for the perfect honeymoon. Read up on where to visit and where to stay for cheap! read more…
Photo booths have become extremely popular for events, especially weddings.  Today our guest blogger, Luke Walther of Black Label Photo Booth Co., shares a few photo booth rental tips on how to choose the best photo booth company for your event and budget. read more…